Natural ventilation: harnessing wind and heat to create a good internal climate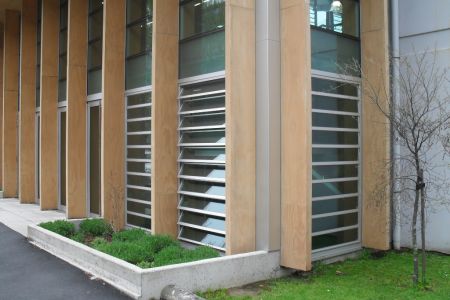 Cost-effective and energy-efficient climate control
Colt natural ventilation systems harness wind and heat to create a comfortable and healthy internal environment, with optimal temperature and humidity levels, and good air quality. The systems rely on automatically opening and closing windows and rooflights, and can range from a simple open/close switch to a fully integrated energy management system with carbon dioxide and temperature measuring, weather sensors and interfaces with building management systems. They provide a highly energy efficient solution that requires a small initial investment to maintain a good internal climate with extremely low running and maintenance costs.
Ventilation solutions tailored to every building type
Colt can design a tailored natural ventilation system for all types of buildings – from schools to offices, from power generation plants to shopping centres. By bringing its uniquely broad expertise across different specialties, Colt is able to design the system that best meets the requirements of your project, including integrated solutions for day-to-day ventilation and smoke control, or hybrid natural and mechanical ventilation systems. Colt's support goes beyond the design stages, through to the installation and, subsequently, to service and maintenance.
Benefits of natural building ventilation
Lower building construction costs
Naturally ventilated buildings are cheaper to construct than mechanically ventilated buildings. A significant reduction in the cost of the engineering services will more than compensate for some extra costs in building improvements, such as external shading and operable windows. As a rule of thumb, naturally ventilated buildings cost about 10 - 15% less to construct than their air-conditioned equivalents.
Lower building operating costs
Naturally ventilated buildings are generally cheaper to run than air-conditioned buildings. In addition to a significant reduction in energy consumption, maintenance costs are generally lower in naturally ventilated buildings due to their reduced complexity when compared to traditional HVAC systems.
Increased health & productivity
Surveys have shown that people prefer a work environment that has fresh air and natural daylight. Employees feel better and are more alert and productive in a naturally ventilated and climate control environment.
Reduced environmental impact
Naturally ventilated buildings have a smaller environmental impact through reduced energy demand (particularly electrical). Reduced energy consumption results in lower emissions of carbon dioxide (CO2) and other combustion products that contribute to the risk of global warming.
A better long term investment
Buildings constructed according to environmentally sensitive principles are good long-term investments because environmental controls and legislation are likely to increase in the future.